VIBRANT
DEFENSIVE AI/ML FOR MISSION-CRITICAL AVIONIC ASSETS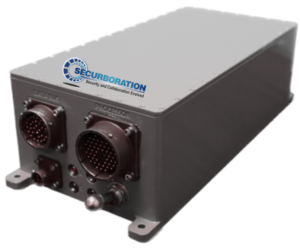 VIBRANT is a defensive cyber technology that monitors mission-critical cyber-assets, using novel machine learning techniques.
VIBRANT identifies anomalous behaviors in these assets that could signal an attack, misconfiguration, or misuse.
VIBRANT empowers mission-critical avionics systems with real-time intelligence for swift response to cyber threats.
Providing:
Actionable intelligence against cyber-attacks.

Real-time visibility and impact analysis.

Detection of sophisticated attacks and problematic conditions.

Engaging visualizations and insightful metrics for mission-critical systems.
VIBRANT employs cutting-edge machine learning techniques to pinpoint cyber events within metric streams, aligning these events with the stages of a cyber-attack's lifecycle.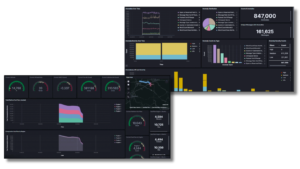 Dashboards above use simulated data to highlight the scale of anomalies that VIBRANT detects.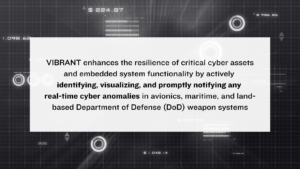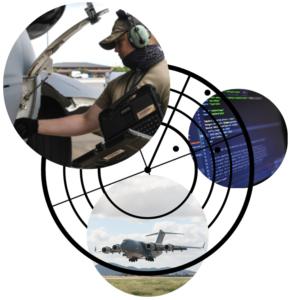 Military Benefits

Identify anomalies on systems that leverage MIL-STD- 1553, ARINC-429, and CAN bus architectures to detect and defeat adversary threats. Allows mission managers and cyber-MDTs to plan and proactively monitor ongoing mission and platform lifecycles.
Standalone real-time Anomaly Detection for MIL-STD-1553 & ARINC 429 platforms.
Message data anomalies detected based on ICD model created by VIBRANT.
Flight Phase and Platform Physics Anomaly Detection Mission Data Capture, Curation and Analysis.
Nonintrusive MIL-STD-1553, ARINC-429 and CAN bus extension to support platform and LRU test & evaluation.

For more information on VIBRANT, you can download an informational VIBRANT Case Study, review the VIBRANT one-pager & contact the VIBRANT Team by emailing VIBRANT@securboration.com.