Welcome to Securboration Inc.
IMPACT Tech Conference 2022
Tuesday, Nov. 15th Virtual
We are excited to invite you to our virtual event.
Scroll to see an itinerary outlining the events and speakers to expect.
---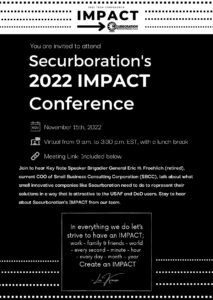 2022 IMPACT Conference Log In Information
Hosted by 
webex@securboration.com
Meeting number: 2556 691 6069
Password: imp@ct2o22 (46712826 from phones and video systems)
Dial: 25566916069@webex.com
You can also dial 173.243.2.68 and enter your meeting number.
Join by phone +1-510-338-9438 USA Toll
Access code: 255 669 16069
---
---
Download the conference schedule for added insight on the conferences speakers and event timing:
---
---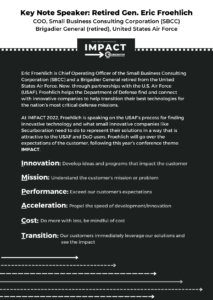 ---
Video's for IMPACT 2022 conference:
IMPACT 2022 Tech Conference PowerPoints:
3. IMPACT C2ISR Innovation Presentation
4. Op Cyber IMPACT Presentation